CHRIS SIEFFERMAN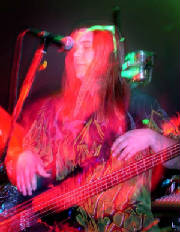 Lead Vocals, Bass Guitar, Lead Guitar
A true local rock legend, Chris Siefferman, has musical notes flowing through his veins. With over 20 years of vocal and playing experience, Chris' musical career began at an early age. As a teen in 1985, he played his first professional gig at Paramount's Kings Dominion in Doswell, Virginia. In 1987, he joined a group of local veterans, Vile Silencer, who threw him into the fire while showing him the ropes of the club scene. Since then, Chris has found much success as a solo artist, as well as performing in a duo, a trio, and fronting some of the regions best bands. He has been the driving force behind such bands as SECTION 8, GUFF TRIBE, & MONKEY BUSINESS, just to name a few. Chris has mastered his vocal talents over the years and is no stranger to working a crowd and giving them what they want. Through the years, he has developed a dedicated and loyal fan base. A major factor in Chris' success is his willingness to listen to input from his fans as well as the club owners and managers that allow him to share his love for music.
TRACY THORE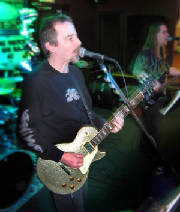 Lead Guitar, Lead Vocals, Bass Guitar

Tracy started playing guitar professionally at age 16 and immediately took the local music scene by storm. In the 80's, he helped form the popular new-wave group The Urge along with Jason Keenan, Jay Hening, and Don Allen Quicke. The Urge was known far and wide for their zany on-stage antics. In the early 90's, he fronted the heavy-metal band Berserker with Dave Hios and Ron Bell, and led their ear-splitting assault. In the mid 90's he split his time between singing for the popular southern-rock group Last Call, and playing guitar for the band Suspiciousaurus. In the late 90's, Tracy participated in various Urge and Berserker reunion shows, as well as being a member of the now legendary Sausage Tater band with Charlie Wall. In 1999, he joined the local alternative band Soulfinger. He spent most of 2000 playing with classic rockers Missile Dog, featuring Marvin Faison, John Caruso, and Johnny Haney, before joining Bryant Newton and Ron Newton to form the well-known variety band Alias Smith and Jones in January 2001. By September 2001, Tracy was ready for something different and started to perform solo acoustic gigs while still playing with ASJ. Tracy has recently appeared with such diverse acts as Publick Animalz and Southern Cross and continues to play his solo gigs. In December 2004, he joined forces with Chris Siefferman and Richard Page in V-Force.

RICHARD PAGE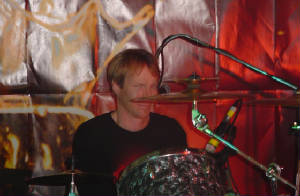 Drums, Backing Vocals & Lead Vocals
Born and raised in central Virginia, Richard Page started playing drums and singing as a kid and says he will never lose his interest. Playing with the band JINX and opening for acts like Robin Trower and Vixen in the 1980's, Richard has continued through the 90's and into the new millenium with various gigging bands like Showdown, Mindzeye, Namozine, and most recently, Magnolia Band. On V-Vorce, Richard says, "The chemistry between the members, the music, and the fans is right up his alley."